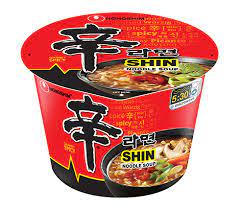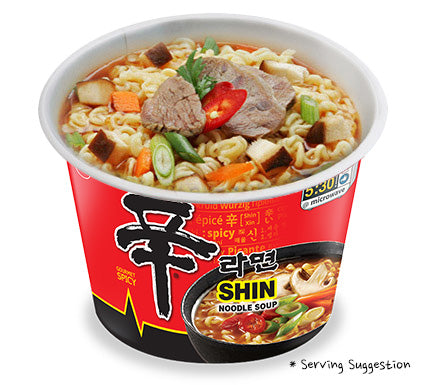 The Yummy Brand
Nongshim Shin Noodle Bowl
The number one ramyun in Korea is now available in a convenient bowl ready in
minutes. This Spicy Soup Bowl may make you sweat. However, the spices do not overpower the savory beef broth and fresh vegetables. Achieve perfect harmony as fresh ingredients combine to satisfy and fulfill you. Nongshim Shinramyun Bowl Noodle is a perfect product that fits the taste of Koreans with its fantastic harmony of the taste of spicy red pepper and clear beef broth. With the red pepper, dried green onion, shiitake mushroom, and dried carrot processed by the freeze drying method, Shin ramyun
Bowl Noodle will give you the spicy and savory taste.
Ingredient List
Noodle:
Wheat Flour (64.4%), Potato Starch, Palm Oil, Salt
Flavour Sachet: Salt, Flavour Enhancer (621), Spices, Tapioca Starch, Sugar, Soy Sauce Powder, Soy Bean Paste Powder, Flavour Enhancer (627, 631)
Vegetables: Dried Green Onion, Dried Mushroom, Dried Carrot, Freeze Dried Red Pepper.